Rent a double-decker in Cologne
A double-decker is a two-level bus. It is much more practical for the transportation of numerous passengers than a normal bus and allows the passengers sitting on the second level to enjoy a better view than in any other kind of bus. To sum up, it must be paired with excursions and sightseeing visits in Cologne and its region! Nonetheless, double-deckers are subjected to stricter limitations than random buses and are not allowed to drive in many streets in Cologne because of their height and length. Moreover, the number of double-deckers available in Cologne is very limited; it is therefore recommended to book a double-decker with driver in advance.
The following kinds of trips by double-decker are recommended:
Transfers by bus for big groups: If the number of passengers of your group goes beyond 60, then you can only travel in two buses or in a double-decker. The price of a transfer by double-decker is certainly cheaper than that of two buses, but you should remember that a double-decker cannot drive everywhere in Cologne. Double-deckers should be booked preferably for transfers only if you are sure that the vehicle could drive to the selected places.
Sightseeing tours in Cologne: Double-deckers with driver are perfect for tourist tours in Cologne for big groups desirous to have a great view! From the second level of our double-deckers, visitors enjoy a wonderful panoramic view of Cologne. Compared to buses, the weakest spot is that it is not feasible to drive directly to all of the tourist attractions of Cologne. This is the reason why the combination of itineraries are less varied.
Tourist tours from Cologne: In most cases, excursions from Cologne by double-decker are conceivable. Bus Cologne advises you to book two buses rather than a double-decker for the following reason: when the groups reach their destination, they usually continue their tour with a stroll by foot accompanied by their local guide. A double-decker is too big for a single tourist guide and usually necessitates the presence of two guides. But it would be pointless for two guides to talk simultaneously in the same double-decker; the best solution is to split them up so that one guide would stay in each bus.
Book a double-decker
It is probably irrelevant to mention that renting a double-decker without driver is not allowed. Double-deckers are the most difficult means of transportation to drive; it requires a lot of training, dexterity and experience. Bus Cologne offers to rent double-deckers, but there are conditions: since their number in Cologne is limited, we advise you to book your transfers, sightseeing tours and excursions by double-decker way in advance! To submit a request for a double-decker in Cologne, please contact us at: or call +49 172 83 44 164. We will be delighted to hear from you!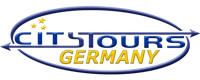 +49 172 83 44 164

Bus Cologne is a service provided by the tour operator City Tours Germany and bus rental companies selected in Cologne and its surroundings.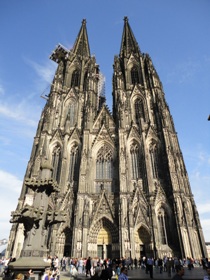 Bus rental abroad
Bus Cologne belongs to City Tours' network and works in collaboration with coach rental companies all over Europe. Please find below relevant websites to our bus company associates:
Book coaches anywhere in Europe for transfers and trips by bus.
Rent coaches for transfers and tourist tours in Germany.
Bus rental for sightseeing tours and transfers by bus in Austria.
Book trips by coaches and transfers by bus in Poland.
Rent a bus or a minibus in Ukraine.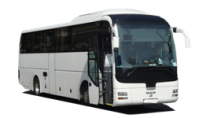 All images on this website © City Tours GmbH | Alexander Ehrlich.